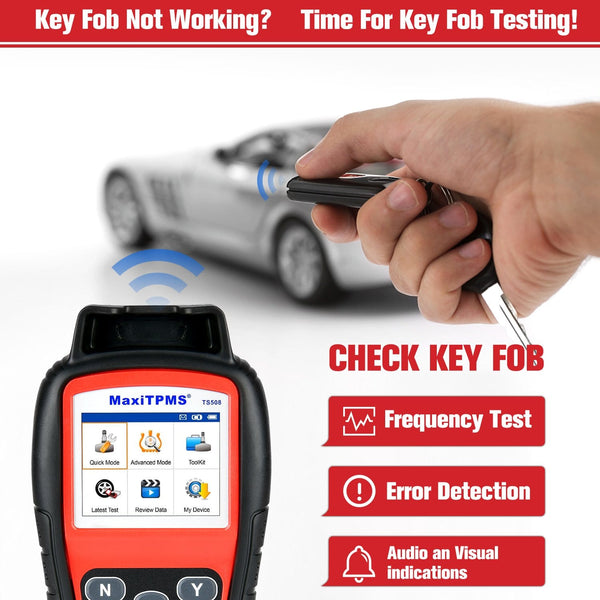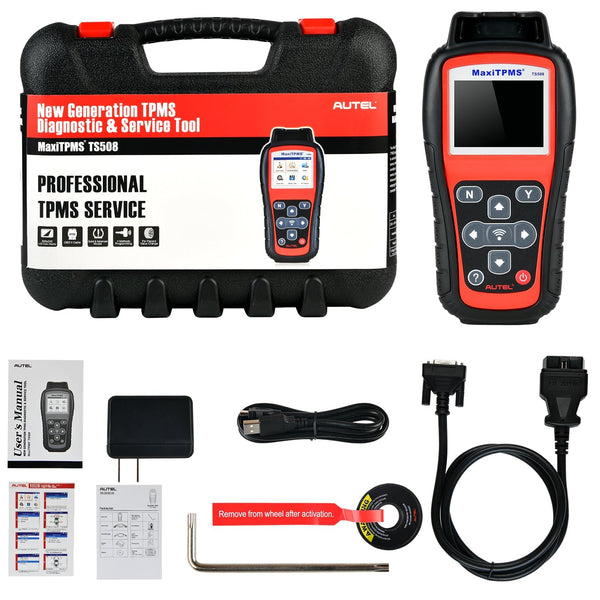 MaxiTPMS TS508K
With Quick Mode and Advanced Mode , you can save time and energy by choosing the most suitable way to complete TPMS work.
Two TPMS Service Modes:A new generation complete TPMS tool ,TS508  provide faster and smarter TPMS repairs. Based on the TPMS service type needed, the option to choose the basic Quick Mode or the complete Advanced Mode will decrease repair time.
Quick Mode / Advanced Mode Comparision:TPMS Quick Mode: basic TPMS functions to check TPMS sensors and program MX-Sensors quickly;
TPMS Advanced Mode: complete TPMS functions to perform sensor check , TPMS diagnose, MX-Sensor program and sensor position relearn.
Four MX-Sensor Programming Option:Copy By Activation/
Copy By Manual Input/Auto Create 1-16/Copy By OBD;
EXCLUSIVE TPMS STATUS SCREEN:Read ECU sensor ID/Check sensor ID and ECU ID matching condition/Read DTCs from ECU and erase DTCs/
View DTCs detail description;
Tire Type/Pressure selection:If all TPMS faults are cleared and the four tires are inflated to the reference pressure listed on the placard,but the TPMS MIL is still on ,you may need to use this function to select your tire type and set the right tire pressure value.
Videos for this product
Videos for this product

@Autel MaxiTPMS TS508 Introduction

@TS508 TPMS Relearn Function

@TS508 MX-Sensor Programming

@TS508 Update Instruction

@TS508 Causes and Resolutions for TPMS MIL ON
Autel MaxiTPMS TS508
As 2022 newest MaxiTPM tool,TS508 offers faster and smarter TPMS repairs for mechanics/DIYERs. It serves almost 99% of cars worldwide and integrates all you want in this powerful TPMS tool: TPMS Programming, Sensors Relearn & Activation, TPMS Reset & Diagnostics, Reading Sensor Data, Key Fob Test, etc.
Specifications
| | |
| --- | --- |
| Display | TFT color display (320 x 240 dpi) |
| Power | 3.7 V Li-polymer battery; 3200 mAh |
| Operating Temp. | 0°C to 50°C (32°F to 122°F) |
| Storage Temp. | -20°C to 70°C (-4°F to 158°F) |
| Dimensions | 215 mm (8.46") / 105 mm (4.13") / 37 mm (1.46") |
| Weight | 0.39 kg (0.86 lb.) |
| Connectivity | Mini USB 2.0 x 1 |
| Warranty | 1 year |
| Software Update | Free |
Package List
1pcs x User manual
1pcs x OBD II cable
1pcs x USB cable
1pcs x Carry case
1pcs x AC Adapter
1pcs x Magnet