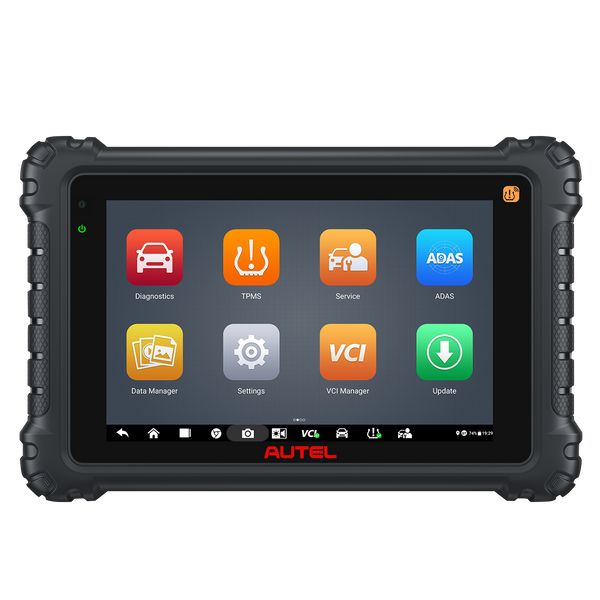 Autel MaxiSYS MS906 Pro-TS
TPMS Programming Service Tool And OBDII Bi-Directional Diagnostic Scanner, Capable Of ECU Coding.
Complete TPMS Function:  Autel MS906 PRO-TS integrated TPMS antenna module for performing full TPMS service: activate/ relearn 99% of all-known TPMS sensors, program MX-sensors, turn off TPMS light, retrieves sensors' OEM part No. in seconds and provides with 3000+ built-in relearn procedures.
Proficient In ECU Coding: the Autel MS906Pro-TS professional diagnostic scanner empowers you to establish full data links with electronic control units via VCI for vehicle diagnosis, repairs, or coding. It also features online coding and personalization for high-end vehicles.
Helpful Guided Function For Novice: The Autel

MS906Pro-TS

 provides OE-level guidance and allows you just follow the screen instructions step by step to complete some complex operations. Best tool for beginners and DIY mechanics. Compatible with VW, Audi, Skoda, Seat, Bently, etc.
Practical Bidirectional Control Function:

Featuring bi-directional control, this car bidirectional scanner MS906Pro-TS can output commands to ECUs and control/monitor the operation of PDM, SMF, RSM, TCU, and other on-board modules to fast & precisely locate car issues. 

Refresh Hidden Features: Autel

MS906Pro-TS

 can help you activate the hidden features already programmed to the car computer to get high-end functions. Such as installing the auto start-stop system, customizing the injector light, adjust the auto door look at a particular speed. Compatible with VW, Audi, Skoda, etc.
FCA AutoAuth:  Autel

MS906Pro-TS

 scan tool supports FCA AutoAuth, allowing you to clear codes and perform active tests & special functions for Chrysler FCA models after 2018 without special adapters.
Videos for this product
Videos for this product

A demo of the TPMS functions on the MS906Pro-TS.

Quick Unboxing of Autel Maxisys 906bt PRO / TS

Quick Start Guide – MS 906Pro TS Bi-Directional Diagnostic And TPMS Service Tablet

Autel MaxiSYS MS906 Pro-TS OE-Level Full Systems Diagnostic and TPMS Relearn Tool
MaxiSYS MS906Pro-TS is an advanced diagnostic tablet compatible with U.S., Asian and European vehicles. This 8-inch wireless Android-based touchscreen tablet performs comprehensive TPMS servicing including 1-Sensor programming to its extensive vehicle diagnostics capability including an all systems scan, the ability to read/erase codes, view freeze frame, and live data, bi-directional control including active testing, coding, and adaptations. Includes customizable Pre/Post scans, and an extensive service menu with 25 of the most common maintenance tasks.
Hardware:        
8-inch, 1920 x 1200 high-resolution touchscreen tablet, Qualcomm 660 Octa-core processor with 128 GB storage and running Android 10.0 operating system. 

Long-lasting 11,600 mAh rechargeable battery, 16 MP front camera and 16 MP rear camera.

 

MaxiVCI V200 wireless Bluetooth vehicle communication interface supporting the latest communication protocols
Software:        
Comprehensive diagnostics on 1996 and newer U.S., Asian and European vehicles 

AutoScan: Scan all available systems, including ADAS identification 

Read/Erase Codes, View Freeze Frame and Live Data 

Integrated TPMS antenna module for performing comprehensive TPMS service

Perform Active Tests (bi-directional controls), Coding and Adaptations 

AutoVIN/Scan VIN for rapid vehicle identification

Performs ADAS Calibrations with software upgrade and frame system purchase

Comprehensive TPMS service includes the ability to activate and relearn all known sensors, and program the Autel 1-Sensor to replace 99% of TPMS sensors on the road today.       
New Software Features        
Battery Analyzation Capability 

Cloud-based Reports and Data Management

With the additional purchase of the MaxiBAS BT506 battery and electrical system tester. 

With purchase of ADAS calibration frame system and software
Specification
Hardware




CPU
Qualcomm 660 Octa-core Processor (2.2GHz Quad-core A73 + 1.8GHz Quad-core A53)


Memory

4/128GB



Android

Android 10.0



LCD


8" 1920*1200



Battery  

11 600 mAh



Camera

Front:16 Megapixel

Rear: 16 Megapixel



Diagnostic Functions







Special Function

26



Guide Function

Support Volkswagen,Audi



Coding and Adaptation

BMW F and E chassis coding 

Porsche Coding

Ford offline adaptation



Expanded Function




TPMS
Included


ADAS
Support


Battery and Electrical System Testing
Support


Cloud Services              
Support


Remote Expert(Coming Soon)
Support


Cloud Report Storage
Support


Packing List
1 x  Maxisys MS906Pro-TS Tablet 
1 x MaxiVCI V200 
1 x AC/DC Adapter(12V)
1 x Type C USB Cable 
1 x Cigratte Lighter Adapter
1 x Spare Fuse
1 x USB To Ethernet Adapter
1 x Quick Reference Guide 
1 x Soft Cloth 
1 x Packing List
1 x Carrying Case