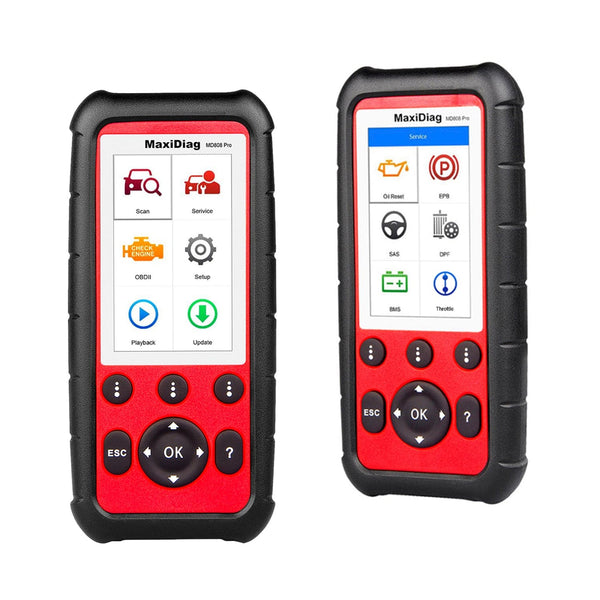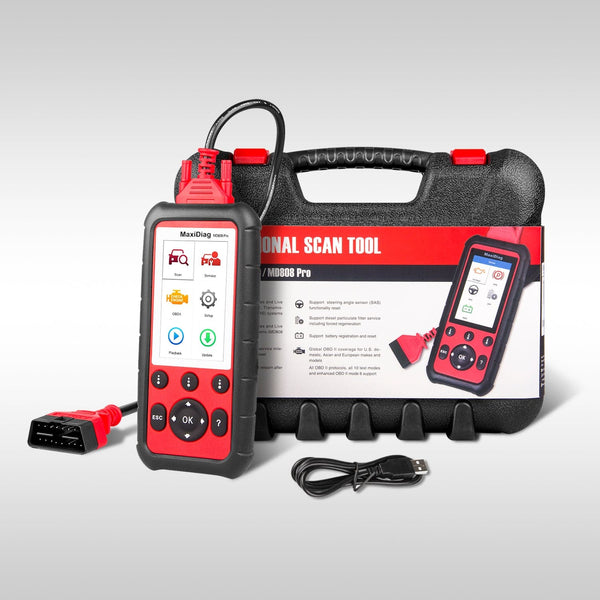 MaxiDiag MD808 Pro
Professional OBD2 All System Diagnostic Code Scanner and BMW/Oil Reset/ SRS/EPB/DPF systems maintenance service tool
Special 7 Service Functions For DIYers

 

- Autel MD808 Pro OBD2 Diagnostic scan tool also support 7 hot service functions, namely, BMS, Oil Reset, SRS, EPB, DPF, Throttle and Adjust A/F for limited specific 30+ car makes up to 2014/2015, and a few 2016.

Complete OBD2 Diagnostic Tool

 

- Autel MaxiDiag MD808 Pro supports all 10 test modes of OBDII test: read & erase universal fault codes(not support manufacturer-specific codes), show live data stream, freeze frame data, view readiness status, O2 Monitor Test, On-Board Monitor Test, Component Test, retrieve vehicle information(CIN and CVN) , module present, and DTC Lookup, etc.
Read/Clear Codes, Reset MIL - MD808 Pro can read all codes to know why the lights are on and decide whether to fix them yourself or go to a mechanic, clear occasional fault codes, reset lights, and get car back to normal.
Retrive Information in 3 seconds & Data Review - Auto diagnostic scan tool MD808 Pro features Auto VIN feature that allows DIYers/ Pros to retrieve important Vehicle Identification Number(VIN) for efficient diagnosis. Data Playback and Data Printing(need windows-base PC) is available for.
Videos for this product
Videos for this product

Autel MaxiDiag MD808 Pro — Introduction

Autel MaxiDiag MD808 PRO: Diagnostics & Service Made Simple

Autel MD808 Professional OBDII Scan Tool Review

Autel MD808 Professional Automotive Scan Tool Reset Oil, SRS, Etc
The MaxiDIAG MD808 Pro is built to take your diagnostic experience to a whole new level. Loaded with oil service reset, battery registration and reset, parking brake pad relearn after replacement, steering angle sensor relearn and diesel particulate filter regeneration functions, MD808 Pro can access ALL available modules for the best diagnosis operations. With all that enclosed in a 4-inch hand-held device, there is no better multifunctional scan tool on the market.
Features:
Support Read/Clear Codes and Live Data functions for ALL systems
Read and clear trouble codes, control and test BMS/Oil Reset/ SRS/EPB/DPF systems
Support oil service reset
Support battery registration and reset
Diesel particulate service including forced regeneration
Reset steering angle sensor (SAS) functionality
Relearn parking brake pad after replacement
Reset service mileage and service intervals
Turn off ECU brake warning light
Perform O2 monitor, on-board monitor, I/M readiness and component testing
Print diagnostic reports via PC connection
Global OBD II coverage for U.S. domestic, Asian and European makes and models
All OBD II protocols, all 10 test modes and enhanced OBD II mode 6 support
Specification
Processor
ARM® Thumb® Processor running at up to 400 MHz
Memory
32MB, 166 MHz
Display
4.0 inch LCD with 800x480 resolution
Connectivity
Mini USB: 2.0
Micro SD Card (16GB)
Power Consumption
1.7 W
Operating Temperature
-10°C to 60°C (14°F to 140°F)
Storage Temperature
-20°C to 70°C (-4°F to 158°F)
Operating Humidity
5% - 95% non-condensing
Housing
Strong plastic housing with protective rubber boot
Dimensions
202 mm x 92 mm x 35 mm (8.35" x 3.62" x 1.4")
Weight
313 g (0.69 lb.)
Package List
1x MD808 Pro Main Unit
1x User Manual
1x OBD II Cable
1x USB Cable
1x Micro SD Card
1x Quick Guide
1x Carry Case