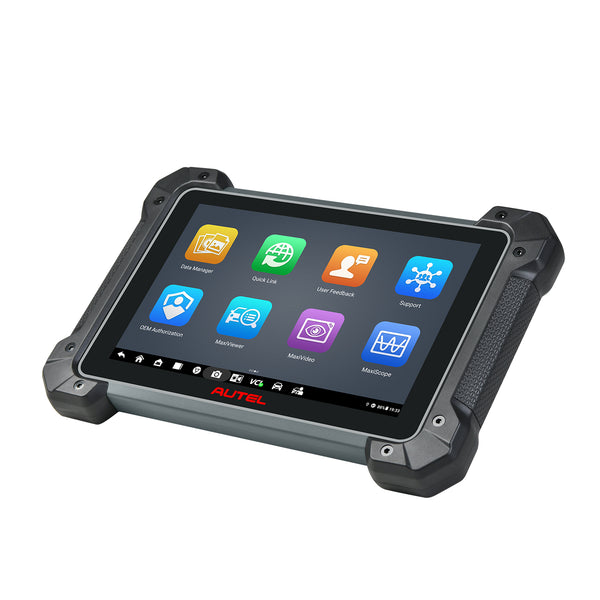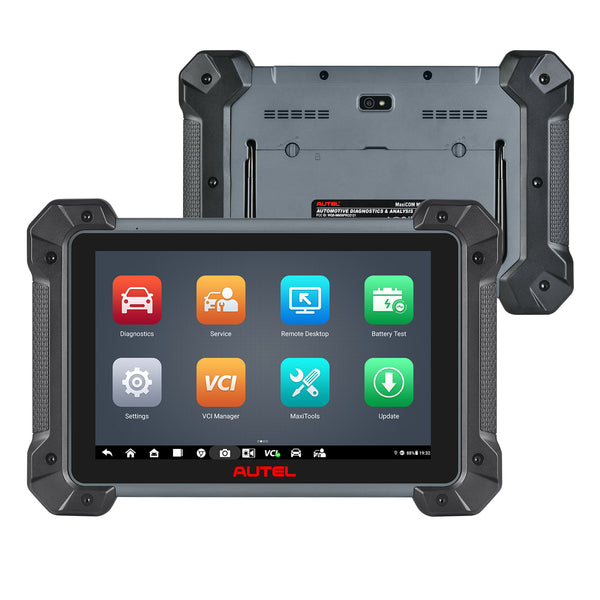 MaxiCOM MK908 II
Wireless Bi-Directional control OBD2 diagnostic tool, which can handle problem from basic vehicle diagnostic to ECU coding.
Ultra-Top Hardwares - Autel has upgraded MK908 to MK908 II with Top Hardwares and Newest softwares, making it faster & smarter. As upgrade ver. of Autel MK908/ MS908S II/ MK906 PRO/ MS906 PRO/ MS906BT, MK908 II is proud of it's "II" upgraded level with smooth operation: Newest Android 10; 5X Faster CPU; Fast AutoScan 2.0; 15000mAh Battery; 16M HD Camera; Larger 4G+128GB for fast running & data storage; 5G & 2.4 GHz WiFi; FCA AutoAuth, etc.
Advanced Functions - Autel MK908 II supports ECU coding(not programming) to help workshops unfold the hidden features or disable the annoying functions etc. to suit car owners customized needs. Bi-directional Control, allows users to send commands to the tested ECUs and monitor the activity of the actuators, such as windows up/ down, switch on/off, etc.
36+ Service Functions - It has 36 service function options, mainly including Oil Reset, EPB service, TPMS ID Relearn, ABS Auto Bleed, SAS Calibration , DPF Regeneration and etc.
OE-Level Diagnostics - MK908 II can access all available modules like: PCM, ECM, TCM, BCM, SCCM, etc. via AutoVIN, Manually Input or via VIN/ LICENSE SCAN with 16M HD camera
Able to Upgrade - Can be combined with New J2534 for ECU programming for BENZ/BMW.
Videos for this product
Videos for this product

Autel MaxiCOM MK908 Scanner Review and GM Code P0172, P0175 Repair. New For 2019. MK908P

2019 MaxiCOM MK908 Pro New tool

Autel MAXICOM MK908 Pro level scan tool

Autel MaxiCOM MK908P 2020 Version Review

Autel MaxiSYS MS908 Complete Diagnostic Scan Tablet OBD2
Powerful Octa-core processor
10.1-inch capacitive touch screen
Open source Android 10.0 Operating System for fast boot-up and multitasking
Easy and intuitive navigation makes finding what you need simple and fast
Complete capabilities for codes, live data, actuation tests, adaptations and ECU coding
Displays live data in text, graph, analog and digital gauge for easy data review and analysis
Configures display options, sets triggers, records and playbacks results with one touch
Records and playbacks live data to pinpoint troubles of sensors and components
Cloud-based Data Manager saves customer and vehicle records, scanner data and technician notes
Remote technical support for convenient demonstration, training and increased customer satisfaction
Prints out recorded data anytime and anywhere with Wi-Fi technology
Automatic Wi-Fi updates available in new software releases
Specification
Operating System
Android™ 10.0
Processor
Qualcomm 660 Octa-core Processor
(2.2GHz Quad-core A73 + 1.8GHz Quad-core A53)
Memory
4GB RAM & 128GB On-board Memory
Display
10.1-inch LED screen with 1920x1200 resolutions
Connectivity
Wi-Fi (802.11 a/b/g/n/ac)
USB: 2.0
BT V5.0 + EDR
SD Card (Support up to 32GB)
HDMI 2.0
Camera (rear)
16.0 Megapixel, AF with Flashlight
Sensors
Gravity Accelerometer, Ambient Light Sensor (ALS)
Input Voltage
12 V (9-24 V)
Power Consumption
6.5 W
Operating Temp.
0 to 50°C (32 to 122°F)
Storage Temp.
-20 to 60°C (-4 to 140°F)
Housing
Strong plastic housing with protective rubber boot
warranty
1 Year
Updates
1 Year free updates online
Package List
1x MaxiCOM MK908 II main unit
1x Bluetooth diagnostic interface
1x Main cable
1x USB cable
1x AC/DC adapter (12V)
1x Auxiliary Power Outlet Adapter
2x Spare Fuse(6x30mm)
1x Mini USB Cable
1x USB to Ethernet Adapter
1x Clamp Cable
1x Quick reference guide
1x Soft cloth
1x Packing list
1x Carrying case(504x360x133mm)